Types Of Display Stands In The UK


Display stands can be broadly classified as indoor or outdoor depending upon their intended use. Outdoor stands need protection from elements while indoor stands need to be light, portable and easily installable. Display stands in UK come in a variety of shapes and sizes to cater to different types of applications.
Indoor
Indoor banner displays can stand on the floor, be wall mounted or hang from the ceiling. Display stands are usually used in floor standing banners. The major components of this type of display system are bases, poles, fabric, connectors and clips. The bases take the entire weight of the display and give it stability. The poles support the fabric and keep it stretched.
Different types of stands are available depending upon the combination of bases and poles that they use. The most popular indoor display stands in the UK are cross-base, twin-base and flex-frame.
Cross-base
These compact stands are best for lightweight narrow banner displays. They have a single 'X' shaped type aluminium base which can be folded with a scissor action. Being lightweight, about 2 kgs, they are very portable. They are also very easy to assemble and can be put together in minutes. Excellent for point of sales displays and also for sales or information desks at presentations and events.
Twin-base
These have a twin-base with two poles which stand on either side of the banner making them suitable for wider banners which will not be stable with a single base and pole. They are light, weighing around 4 kgs and are perfect for creating an impact with larger banners. If you have a few of these, you can create a very impressive display area in a few minutes.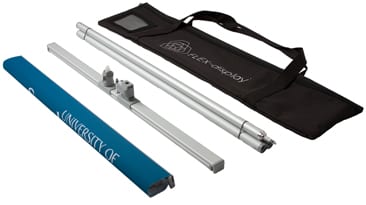 Flex-frame
These stands are suitable for banners of different sizes due to the telescopic poles which they use. They have two bases which make the banner stand in between the poles. The poles do not obstruct any part of the banner, so they can also be used for double sided banners.
The banners for these types of stands have a cylindrical plastic component on top and bottom which fix to the poles on top and slide into a channel on the base, giving the whole banner a framed appearance. The telescopic poles which can be pulled out and locked into place at any position, allow for flexibility in the height of the banner which can be anywhere from 1.5 to 2.5 meters.
Outdoor
Outdoor stands have to be sturdier compared to their indoor counterparts to prevent them from getting toppled due to winds or being damaged by other elements. Depending upon the application that they are aimed at, these stands have different wind withstanding capabilities. The banners are usually made of silks, heavy-duty PVC or other waterproof materials. Here are a few popular outdoor display stands in the UK.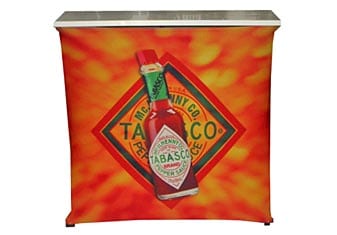 Demo Counters Or Promotional Stands
These are portable stands that can be used for applications such as demonstration, sampling or promotion of products at outdoor exhibitions or fairs. They are lightweight and can be packed flat for portability, but are versatile enough to be used as permanent display stands. They come in a range of colours, sizes and styles to suit different applications.
Tamper-Proof Outdoor Display Cases
These stands have high quality glass on both sides of the banner or display material to make them safe, tamper-proof and to protect them from rain or water splashes.
Information Cases
These illuminated glass cases are suitable for both indoor and outdoor use. They can be used to display a large menu outside a restaurant or in the dining hall. They are also suitable for announcements or other information at functions and events. They are available in different sizes in both portrait and landscape orientation.
We have covered the most popular types of display stands used in the UK. There are many more variations of these basic models, some of which are designed for very specific purposes. These are also available with custom graphics. Whatever your application or banner size, you will find a display stand in the UK that perfectly fits your requirement.