Fabric Posters
---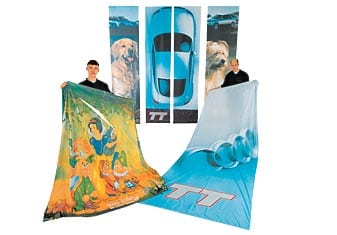 Vibrant printed fabric
A great modern alternative to paper poster

Features At A Glance
Fabric hangs better than paper or plastics
From A4 to giant sizes
single sided, printed through to reverse or double sided
Dye sublimation print is ideal for producing cost effective hanging banners for even the largest point of sale promotion. It produces significantly better print resolution than screen print and provides a great and modern alternative to paper, card or PVC.
We have a variety of methods of finishing the banners (see finishing options) to allow them to be hung from ceilings, made freestanding or even wall mounted. See poster hanging rails, FLEX-poster displays and wall & ceiling mounted for further information regarding these aspects.
The banners can be produced on a range of fabrics depending upon the finish required and the budget available. See fabrics available section. The fabric choice is often determined by the look required – some like single sided banners whilst others prefer banners with a see-through nature where the print carries through to reverse showing a mirror image from the rear.
We can supply for Nationwide, Europe wide and even Worldwide campaigns and of course a change of language and multiple designs pose no problem. We can supply in bulk or as singularly packed, individually labelled banners.
Standard Sizes
Aside from standard 'A' poster sizes, there are no real standard sizes for shop window hanging posters. We can make them up to 3m x 10m – a size range that covers practically all normal requirements in the retail and exhibition arena.
Hanging Poster With Wooden Dowels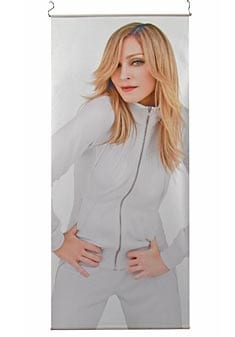 Hanging Poster with Snaplock Rails