Double Sided Fabric Print
Double Sided Fabric Print
Our standard dye sublimation print onto display polyester (knitted polyester 205gsm) produces excellent results in terms of resolution and colour vibrancy. However, there are occasions when client wishes to have a double sided image and this cannot be achieved with the standard material because there is no light block between the front and back of the fabric – so the images would interfere with each other.
There are a number of options that we have developed which get around this issue though.
45% show-through
Using our thinnest knitted polyester, 115gsm, we are able to get about 45% print through to reverse when printing on 1 side only. This percentage can appear much higher still when held up to the light and so it depends a little on the environment in which it is used. Of course, this results in a mirror image being seen from the rear of the banner.
95% show- through
By changing some print parameters, we are also able to get much higher print through to reverse on 115gsm knitted polyester – near 100%. This makes it pretty difficult to see which side of the banner was printed and again, the reverse is a mirror image of the front of the banner.
True double sided print
In this case, we make 2 duplicate prints onto 205gsm knitted polyester. We add a light blocking interliner which is glued and sandwiched between the two prints. The three parts are then heat & pressure treated to create a very heavyweight fabric which has exactly the same image front and back without any interference from one to the other. This is quite a breakthrough in fabric printing technology.
Improves upon PVC banners because:
Much lighter weight – PVC is typically around 500gsm
Hangs better than PVC
Easier to transport
Easier to handle & install
115gsm knitted polyester printed 1 side – approx 45% show through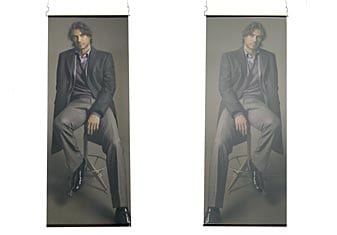 115gsm knitted polyester printed 1 side – approx 95% show through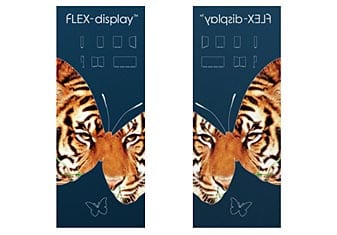 205gsm knitted polyester 2 prints back to back with interliner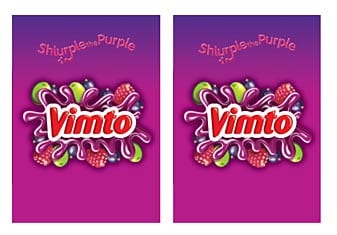 As applications for this material are so many and varied, we quote this material on a job for job basis – please ask us for a quote if you have a requirement in mind