Carry Cases
Cases for folding bases & graphics
The carry cases for FLEX-display are made from heavy duty nylon for strength whilst still being lightweight for portability.They are fitted with hand straps and each has a full length zip.The bags are designed to hold the full system i.e. base poles clips and graphic.
They are available in 5 sizes which cover the range of display and base sizes.
The sizes are as follows:
74cm – Crossbase systems up to 65cm wide
108cm – Crossbase systems up to 80cm wide
135cm – Crossbase (telescopic)/ twinbase up to 120cm
160cm – Twin XL systems up to 150cm wide
208cm – Very wide displays or displays with single section pole
Cases For Base Plates
A flat base plate must be carried separately from the graphic, poles and clips.We have designed special bags for these bases and each case is able to house multiple bases.
The square plate case will take up to 5 bases:
The twin plate case will take up to 3 bases:
Folding Base And Graphics Carry Case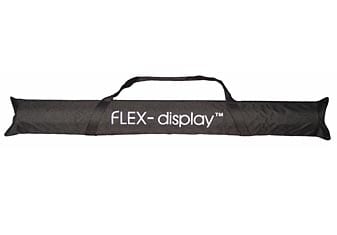 Square Base Plate Carry Case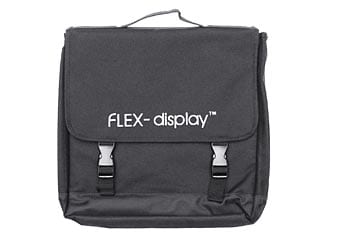 Twinbase Plate Carry Case