Slatwall Banners
---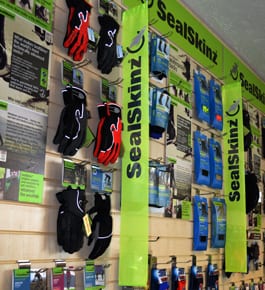 Make your products stand out in-store
Features At A Glance
Easy branding of Slatwall areas
Custom sizes & Finishing options
Full colour printed fabrics
Rolls up small for easy distribution
Can hang on standard Slatwall hooks
---

We know that it can be difficult to ensure that stores display products in the way brands would like them. The Slatwall banner from FLEX-display is a unique retail solution to really makes products stand out in a retail situation. It allows brands to encourage retailers to lay out all of their products into a single area of Slatwall and the banners mark out the territory whilst grabbing the focus of the shopper.
In recent work for Sealskinz (www.sealskinz.com), banners were created 15cm wide x 130cm tall using 115gsm knitted polyester, printed using full colour dye sublimation. The banners were finished with a sewn loop at the top and a weight at the bottom to allow them to be simply slide over readily available Slatwall hooks. The vibrant printed fabric gives a very simple but very effective way to grab attention and mark out a display area.
The Sealskinz products here lie relatively flat against the display wall, so these banners can easily be seen. Other bulkier products may require the banners to sit further away from the Slatwall – In this case, a longer hook or a specially designed fitting could be utilised so the banner would remain visible. We would like to thank our friends at Sealskinz for providing the images of the banners in use.
When rolled up, these banners are tiny – see image of banner next to a 10p coin to give an idea of scale. We single pack them into polythene sleeves to make for even easier distribution.

We can offer any custom sized banners which can also be finished to suit your requirements. There are also different fabric available depending on the look required by the client. Bespoke hanging options can also be an option we can assist with.
---