Adaptability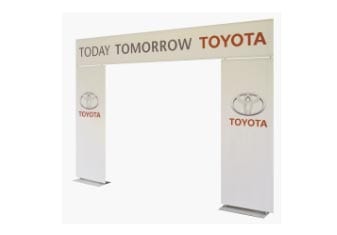 So many applications aside from the standard products
As the FLEX-display system comprises a series of components, all designed to work together in many configurations, this naturally leads to uses for the system which fall outside of the norm. Essentially, it may be considered like a lightweight construction kit.
Additionally, we are able to make alterations to standard pole and rail sizes to suit those special applications.
As you can see above, a display was created using standard FLEX-display components and fabric graphics to create an over-car display.
There are also many ways in which even the standard products may be configured as shown in the top images on the right. With our backdrops range, as we need to keep the displays portable, flexible joints are used to allow the rails to fold away.
This in turn leads to a very useful function which allows you to use that flexibility in order to use your display in different ways, perhaps depending on the space available at different events.
You can see how a wide display may be used straight or angled in various ways depending on the positioning of the joints. Backdrops with special flexibility can be custom made so that you decide where the joins need to be.
You can also see how FLEX-display has been used to create bespoke point of sale (POS) displays by taking standard components and modifying them – only slightly in some cases.
For example, base plates can be made to have more vertical poles than standard and in different positions. By then using vertical poles, we can attach acrylic shelves to the top of the poles or other types of fixtures and fittings. As there are many components at our disposal, the flexibility of applications is significant.
So if you have an application which sits outside of what you may consider we can offer, please talk to us and we can see if we can suggest a solution using the FLEX-display components, often in combination with printed fabrics.
4.5m x 2m Backdrop Using The Flexible Joints To Make Various Configurations

POS Unit Made With Modified FLEX-display Components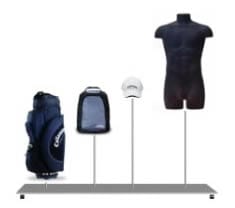 POS Unit Part Made With FLEX-display Components