Wall Mounted
The FLEX-display system provides a number of ways of displaying your banners. In addition to freestanding banner stands, you may also use the same graphics and FLEX-display rail combinations to wall mount or ceiling suspend banners too.We offer a wall mounting kit as part of the FLEX-display range. This comprises 2 double sided clips, 2 wall block fixings and the necessary screws and plugs to complete the assembly.
The fabric graphics we supply are mounted with one of the three types of horizontal rails a) snaplock b) classic or c) channel rail -see Bar types.
All of the rails have the same profile at the rear and so all types can be used for wall mounting. The wall block fixings (which also share the same profile as the rear of the rails) are connected to the wall with screws, the upper one horizontally and the lower one vertically.
The double sided clips are then used to connect the top and bottom rails of the graphics to the wall block fixings by just clipping the two together.
We recommend the use of one wall mounting kit for each 60cm width of banner and so the wall mountings can also be used with very wide banners – just more are needed.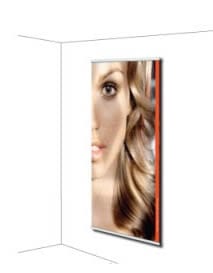 Wall Mounting Kit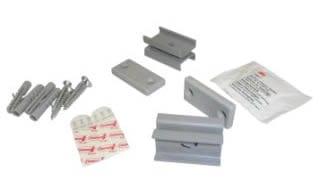 Connecting Graphic To Wall Fixing Block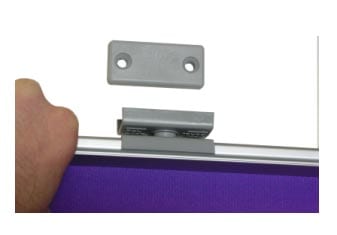 Fabric Graphic with Rails And Wall Clips Attached (Rear View)