Ceiling Hanging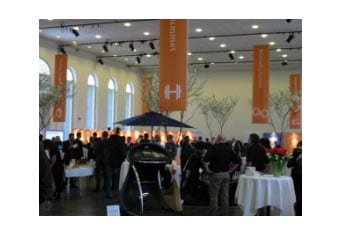 Ceiling Mounting
One of the simplest features of the FLEX-display range is the addition of eyeleted clips which may transform a freestanding or wall mounted banner into one which can easily be suspended by suitable wires.
However, by using s-hooks in combination with eyeleted ceiling clips, many users have found this a very easy way of displaying their banners by hanging them over shell scheme walls.
Sometimes, there just isn't the space to have a freestanding banner stand and so this application is great – you do not have to have one or the other, just by carrying a couple of ceiling clips and S-hooks with the FLEX-display banner hardware allows you either option with ease, depending on the circumstances of use. Many international travellers make use of this feature.
There are 3 types of eyeleted clip:
Single sided ceiling clip
Double sided ceiling clip
Wide ceiling clip
How It Works
The fabric graphics we supply are mounted with one of the three types of horizontal rails a) snaplock b) classic or c) channel rail. For further information about the different rails, see rail types.
All of the rails have the same profile at the rear and so all types can be used for ceiling hanging. The ceiling clips are designed to clip onto the rails at any position and it is best to use 2 clips to prevent the banners from rotating.
The double sided clips are used to connect the top and bottom rails of two separate graphics together. In this case, we use to at the top (for hanging) and one at the bottom just to keep the banners neatly fixed together.
When we need to suspend heavier or wider banners, we use the wide ceiling clip. This has 2 eyelet positions and is considerably wider than the standard clips in order to give added strength.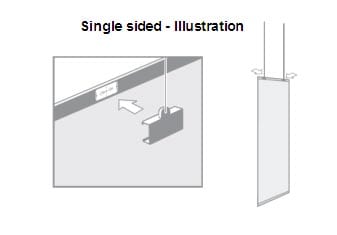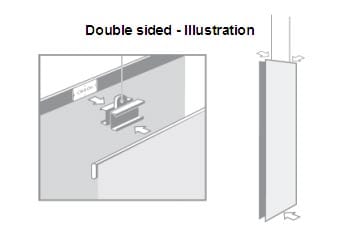 Single & Double Sided Ceiling Clips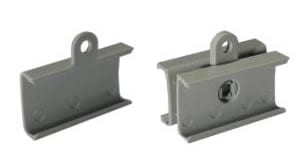 Single Sided Banner With Snaplock Bar & Ceiling Clips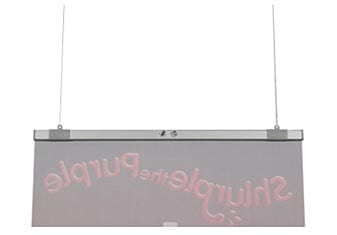 Completed Hanging Banner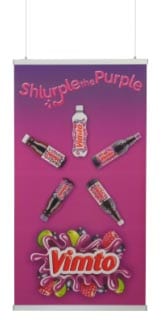 Wide Ceiling Clip


Single Sided Clip With S-Hook