Spotlights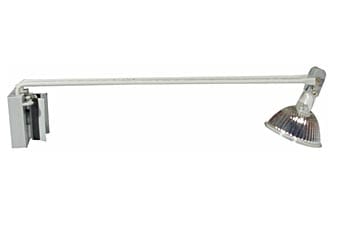 Low voltage display spotlights
We offer low voltage spotlights which have been designed to fit and compliment the FLEX-display banner stand. The spotlights each come with their own transformer and neat cardboard case. A wide angle 20W halogen bulb is provided. The bulb simply slots into the light fitting and so is easy to replace when required.
Each transformer can accommodate 3 lights (transformer rated at 60 Watts max) and so if you are using many spotlights on the same display banner, you can minimise the amount of plugs required.
Different Fittings
There are 2 different fittings available with our spotlights:
Vertical – This fitting is designed for single banner displays where the spotlight needs to be central but the pole supporting the banner is also central. So this fitting fits onto the rear of the top clip which holds the pole in position thus allowing the light to be centred.
Horizontal – With larger displays or when more than 1 spotlight is used, it is more flexible to be able to clip the light onto the banner stand anywhere along the top rail. This light fitting allows you to do exactly that as it has been made with the same mounting clip as those used to connect our display poles to the banner rail.
Different Voltages & Plugs
We are able to supply the spotlights to suit different countries. We have 3 types:
The Spotlight Kit Laid Out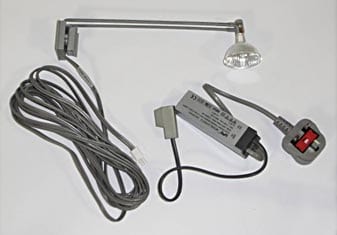 The Spotlight Kit Boxed Up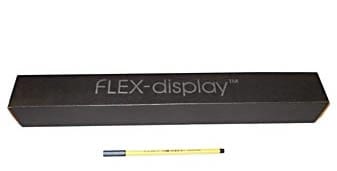 Pen shown to give a better idea of the scale.
FLEX-display Spotlight On Crossbase Banner Stand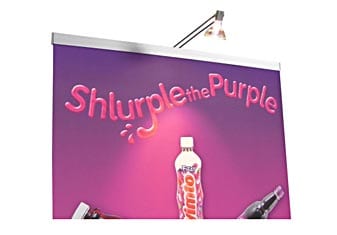 Cross base With Spotlight, Vertical Fitting, Side Elevation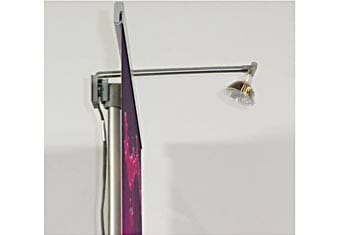 Cross base With Spotlight, Vertical Fitting, Rear Elevation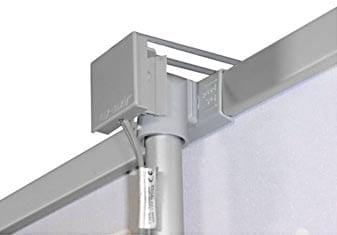 Spotlights In Use – Large FLEX-display Backdrop