Outdoor Fabric Banners

Unlike most outdoor banners available in the UK which are typically printed onto PVC, we offer outdoor banners printed onto fabric.
Fabric has a number of advantages over conventional outdoor PVC banners.
Key differences:
Much lighter weight – PVC is typically around 500gsm
Less environmental impact
Easier to transport
Easier to handle
Easier to install without damage to the banner
There are 2 main types we can offer:
Using Knitted Polyester
We can use any weight of the knitted polyesters we have available. Commonly, we would use 115gsm knitted polyester as this has the most open knit structure and allows wind to pass through the banner reducing the wind load.
To make them strong, we apply reinforcing tape to the edges of the banners which is sewn in place and then eyelet through the reinforcing tape.
Using Non-Woven Polyester
As non-woven polyester is very tough, it is ideal for outdoor banner applications. It is much lighter weight than PVC and so long fence wraps are still pretty easy to transport and handle.
If we use our 150gsm non-woven material, we tend to reinforce the edges in the same way as with knitted polyesters – just to make sure the eyelets stay in place.
With the heavier 300gsm non-woven polyester, we can eyelet this directly without reinforcement as the material is very thick in comparison to all other fabric we offer.
150gsm Non-Woven Polyester Reinforced And Eyeleted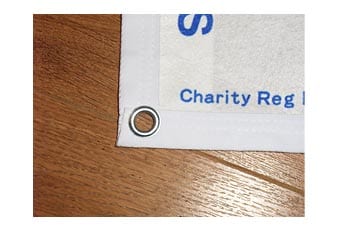 300gsm Non-Woven Polyester Eyeleted Directly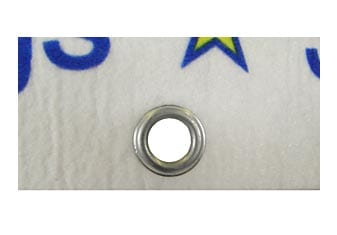 115gsm Knitted Polyester Banners In Use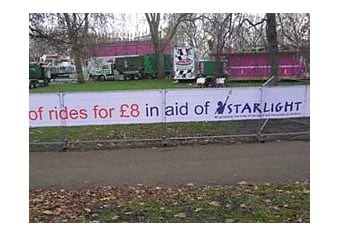 As applications for this material are so many and varied, we quote this material on a job for job basis – please ask us for a quote if you have a requirement in mind