Twin Base
---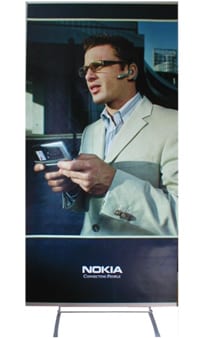 A wider option…
Compact, lightweight fabric banner stands
Features At A Glance
Compact & lightweight
Single and double sided
Easy to carry & assemble
Variable Height
Super lightweight large banner stands – the twinbase range
There are 4 standard sizes in our range of FLEX-display Twinbase banner stands:
100cm wide x 200cm high graphic – Twinbase 100
120cm wide x 200cm high graphic – Twinbase 120
150cm wide x 200cm high graphic – Twinbase XL 150
200cm wide x 200cm high graphic – Twinbase Mega 200
---
Sizes And Size Options
Each display has an overall height of 2.11m although there are options to extend this height by using a telescopic pole rather than the fixed height pole supplied as standard.Also, it is possible to create the banners in any width up to 150cm in this range. They are called Twinbase stands as they feature two vertical poles which connect to the base to enable the system to support wide graphics. There are 2 bases in this range, the Twinbase and Twinbase XL but they differ width allowing the same style of base to cover a wide range of sizes.
Weight And Portability
These displays are very lightweight. The examples here weigh 3kgs to 3.5kgs depending upon the graphic width. The banners are very lightweight as they are printed onto polyester fabric weighing approx 200g per square metre – so a fabric graphic for a 1.5m x 2m display weighs in at just 600g!
These displays are used in all sorts of environments where a big impact is needed and it always surprises users that they can carry a few of these displays by hand and within minutes set up a significant display area. They also make attractive and modern looking point of sale displays in a retail environment.
For systems with graphics up to 120cm wide, the whole system fits into a tough nylon carry case measuring 135cm in width x approx 10cm in height.
For 150cm wide systems, the whole system fits into a carry case measuring 160cm in width x approx 10cm in height.
Flexibility
As the graphic is independent of the vertical pole and base, it is easy to change.
The system can also be made double sided by using a different clip set and adding a second fabric graphic with rails to the rear of the display.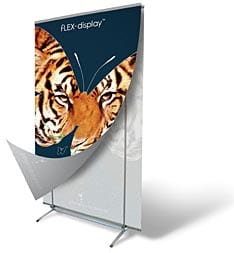 The bases used in all of the examples shown are folding Twinbases. However, there are alternative bases to these called Twinbase Plates. They are rectangular aluminium plates which give a different look to the system.
For more information about the flexibility of the system, see the Features and FLEXibility section which explains this in more depth.
Assembly
The crossbase stand has been designed with the user in mind and assembly is very simple.
Each display comprises a base, pole, clip set and fabric graphic.
They are assembled as follows: