3m x 2m
---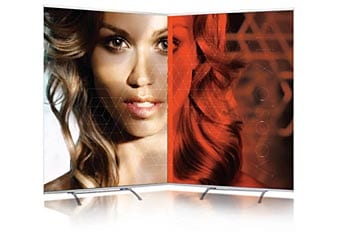 Angled or Straight Backdrops
With one seamless printed graphic
Features At A Glance
Seamless, one-piece graphics
Straight or angled
Remain lightweight and portable
Twinbase XL
Lightweight & portable FLEX-display 3m x 2m fabric backdrop
300cm wide displays are made by using two Twinbase XLs to support one very wide graphic. Fabric graphic is not in sections, printed in one piece and therefore totally seamless.
This display has a flexible central joint which allows the display to be used straight or angled as you wish. It helps too when folding the display away for transportation and storage.
These displays are still lightweight and make an ideal portable backdrop for any situation. They are often used for showrooms, events or as an exhibition stand back wall.
Weight And Portability
The FLEX-display Backdrop 300 system is very lightweight, especially when compared to a pop-up display for example.  Using printed polyester fabric supported by aluminium hardware the 3m x 2m backdrop seen above weighs in at approximately 8kgs including carry cases.
The whole system fits neatly into two carry cases measuring 160cm in length by approx 10cm diameter.
Flexibility
As the graphic is independent of the vertical poles and bases, it is simple to change.
The system can also be made double sided too but only if straight (not angled) by using a different clip set and adding a second fabric graphic with rails to the rear of the display.
As we are using 2 x Twinbase XLs with this display, it is easy to use them independently by just having smaller graphics with rails to create to separate banner stands.
Assembly
The stand has been designed with the user in mind and assembly is very simple.
The display comprises bases, poles, clip set and fabric graphic.
See the assembly video below to see how easy it is to put this display together.