Fabric Graphics
In the pictures below, we have tried to demonstrate the quality of printed fabrics we use for the FLEX-display system. We use dye sublimation print to achieve vibrant high resolution fabric graphics. Even the smallest details can be re-produced on fabric using dye-sub.
---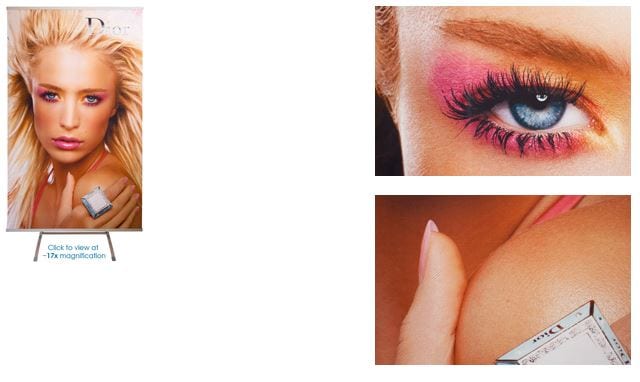 ---
We can produce dye sub print onto various materials and then finish them in different ways as you will see in detail in the pages specific to those areas.Most often however, we are asked questions like:
How big can the print be in one section?
How quickly can you print this?
How are the banners cut to size?
We will answer these questions and give answers to some other general questions below.
---
How wide?
Our maximum print width is currently 3m and as the materials are printed on the roll, your banner can be 3 x whatever length within reason.
Can you take care of installation of displays?
In many cases we can, particularly for Nationwide POS campaigns but not normally for smaller requirements – ask us and if we can, we will.
Do you also supply screen print?
Yes. On some occasions, screen print is more suitable. Products such as parasols and pop-up tents are screen printed in most cases. Also, when doing print in large volume, photographic quality is not always needed. In these cases too we offer a screen print solution.
Do you supply other printed media or just fabric?
Yes we supply PVC though to letterheads for our clients.
Can they be wider?
Yes. We regularly produce banners which go beyond the max print width and join them in panels by sewing them from the rear. The finishing is not invisible but we make every effort to minimise the join.
How quickly can you print this?
We have a standard lead time of 5 to 7 working days for most requirements but it depends upon other production and it is often required faster – we will do all we can to help you meet your targets but if it can't be done, we'll tell you straight.
How are the banners cut to size?
Unlike most fabric printers who cut by hand, we use a mechanical Zund cutter which speed the process up but also gives greater accuracy and neater cuts. The Zund cutter can deal with banners up to 6m x 2m.
Is any job too big?
Not so far… We love a challenge though!