A-Frame Popup Banners
---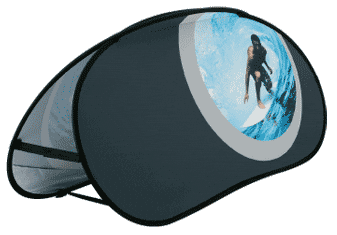 Banners with a 'Pop!'
Striking fabric banners that pop up
Features At A Glance
Horizontal or vertical configurations
Durable and lightweight
No assembly required
High quality full colour digital print
Our A-frame pop-up banners (or folding A-frames) are available in horizontal or vertical configurations and in a variety of sizes. They are manufactured from durable and lightweight materials for easy tool free assembly.
These patented banners are designed to pop-up once removed from the hardwearing carry case to make an instant portable display which may be readily folded away again after use. This provides the user with a quick set up banner which is compact and light enough for easy transportation and storage.
The long lasting polyester material and high quality full colour digital print (or screen print where applicable) ensure clarity of message as well as the ability to withstand harsh weather conditions.
The displays are essentially double sided as the have a separate print on front and back separated by metal rods. Therefore they may have different artwork on each side. They have internal pockets allowing them to be weighted down.
We have heard them called by many names such as pop-up banners, pop-out banners, folding A-frames, golf course banners, fold away banners and even Toblerones but when you see the images, you'll know you've found what you're looking for.
Sizes Available
---
Small Horizontal A-frame: 1200mm (w) x 700mm (h)
Medium Horizontal A-frame: 2000mm (w) x 900mm (h)
Large Horizontal A-frame: 2500mm (w) x 1200mm (h)
Small Vertical A-frame: 800mm (w) x 1000mm (h)
Medium Vertical A-frame: 1000mm (w) x 1350mm (h)
Large Vertical A-frame: 1200mm (w) x 2000mm (h)
Horizontal A-Frame Popup Banner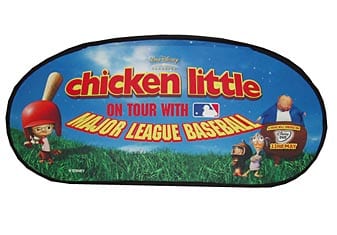 Vertical A-Frame Popup Banner