2m x 2m
---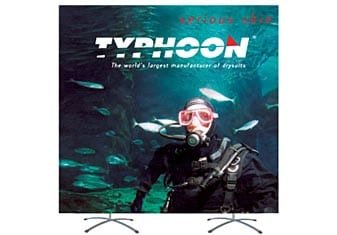 Lightweight, portable fabric backdrop
Slightly larger and easily assembled
Features At A Glance
Compact approx 5kgs
Impacting fabric graphics
Single or double sided
Lightweight & portable FLEX-display 2m x 2m fabric backdrop
When banners get beyond 1.5m in width, more than one base is required to support the banner and maintain stability.  Here we use 2 of our Crossbases and vertical poles to support a 2m x 2m fabric graphic (in one piece, not sectional).
This size display is perfect to use with trestle table and printed tablecloth (as shown right) to create and almost instant, large, inviting display area.
Weight And Portability
These displays are very lightweight.  The banners are lightweight as they are printed onto polyester fabric and supported by aluminium hardware.  The 2m x 2m backdrop seen above weighs in at approximately 5kgs including carry case.
As we have snaplock bars available in 2m lengths, the fabric graphic is fitted with these top and bottom allowing it to be rolled away just as we would with a much smaller banner stand.  So the whole system fits neatly into one carry case measuring 208cm in length by approx 10cm diameter.
If needed, we can fit the graphic with folding rails so that the graphic can fold in half when even greater portability is required.  In this way, the system fits into 2 smaller cases of 108cm in length.
Flexibility
As the graphic is independent of the vertical poles and bases, it is simple to change.
The system can also be made double sided by using a different clip set and adding a second fabric graphic with rails to the rear of the display.
As we are using 2 x Crossbases with this display, it is easy to use them independently by just having smaller graphics with rails to create to separate banner stands.
Assembly
The stand has been designed with the user in mind and assembly is very simple.
The display comprises bases, poles, clip set and fabric graphic.
The image below shows the hardware of the display assembled with the rolled graphic ready to be attached.  It really is a 2 minute job.