Adjustable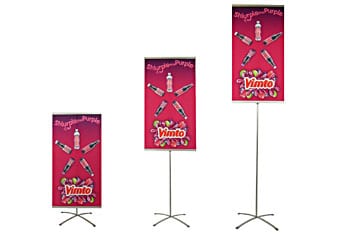 How height can be varied
Flex display stands can be used to display graphics that are less than the standard height of 2m and they can also be used to display graphics that are taller than the standard 2m height.
One feature, unique to Flex Display is the ability to adjust the height of the graphic to be displayed in three ways:
Method 1 – using shorter height graphics
As the bottom clips on all of our systems may be positioned anywhere on the vertical pole, this means that full height graphics do not need to be used on every occasion. So this feature allows the Flex display system to display fabric posters as well as larger fabric graphics – In fact, you choose the height and the system will happily display it.
Method 2 – Using telescopic poles
Where maximum flexibility is required we offer a choice of twist lock telescopic poles. Our 2 piece twist-lock telescopic pole can accommodate graphics up to 245cm in height whilst our 3 piece telescopic pole can take your graphic display up to a staggering 3.7m
See Pole Types for further info.
Method 3 using different pole combinations & extensions
Where graphic displays taller than 2m are required we again have a number of alternatives. Because all of our pole sets are completely interchangeable they can be used in combination to produce a very wide range of display heights. The available pole sections are as follows:-
1 piece pole – length 205cm
2 piece pole – each section 102.5cm long
3 piece pole – each section 68.33cm long
Where a fixed pole height of 2.25m is required we have a simple 20cm extension pole to do this.
Using Telescopic Poles On A FLEX-display Baseplate Stand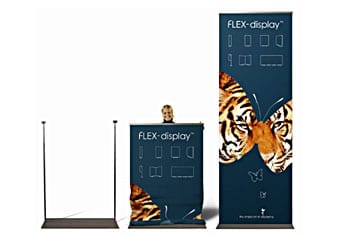 FLEX-display Banner Stand With Short Height Graphic

Giant 3m x 3m FLEX-display Backdrop Using 3 Sections Of Standard 2 Piece Pole