Totem Banners
---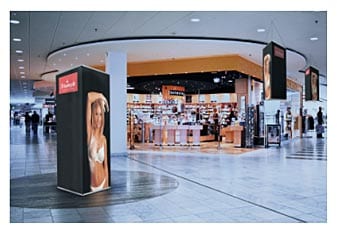 Three Dimensional Displays…
Ideal for point of sales and events
Features At A Glance
Three Dimensional
Free-standing or Hanging
Triangular or Square Column Displays
Triangular and square column displays
One of the more recent additions to the FLEX-display range is our totem displays. These comprise freestanding and hanging banner systems which are either 3 sided or 4 sided columns.
Freestanding Totems
The poles and rails used are the same as with our other banner stand systems but the bases and clips have been specially designed to allow for these very bold large displays, to be folded away, lightweight and portable.
Below is an image of the triangular base when folded away:

So as you can see, the base is long and thin so that it can be easily carried along with the poles and graphics in one of our nylon carry cases. However, it has been cleverly designed to open out into a perfect triangle. Below is an image of the same base partly opened so that you can see how it works: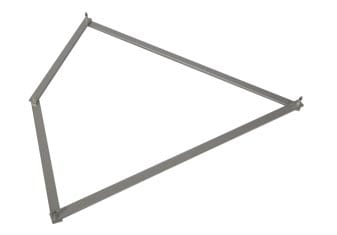 So by fully straightening the base at the elbow, the triangle is formed. It has three connection points for the vertical poles which will support the fabric graphics.
When poles have been positioned, we can connect graphics to the system using our special angled clips, in this case 60 degrees: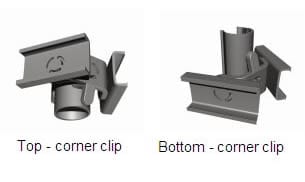 The square base works in a similar way: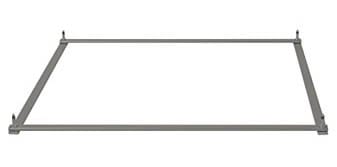 In this case though, we supply clips which are 90 degrees but the system is built up in the same way.
Hanging Totem Displays
It can create a very good visual impact to hang a triangular or square column display. We have developed a separate set of angled clips which allow these displays to be suspended on suitable ceiling suspension wires by the addition of hooks to the clips.
In the case of hanging banners, the base and poles we discussed earlier for the freestanding displays are not required and not used. The shape of the displays is formed purely by the angled clips joining the top and bottom rails of each banner together.
Here is an image of the clips we use to form and hang triangular and square totem displays: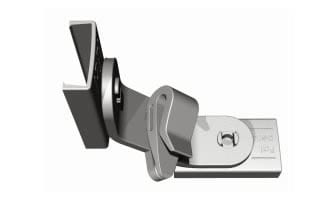 Types And Sizes
Freestanding totem displays
In each style, there are 2 widths available:
Triangular totem
1: Graphic size 85cm (w) x 200cm (h)
2: Graphic size 135cm (w) x 200cm (h)
Square Totem
1: Graphic size 85cm (w) x 200cm (h)
2: Graphic size 135cm (w) x 200cm (h)
Hanging Totem Displays
These can be made in a range of sizes in both height and width.
Partly Assembled Freestanding Triangular Totem Display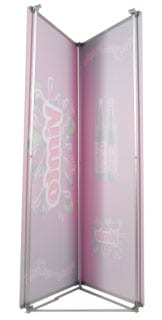 Fully Assembled Freestanding Triangular Totem Display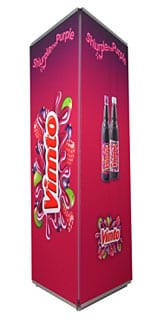 Partly Assembled Freestanding Triangular Totem Display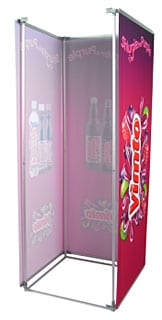 Partly Assembled Freestanding Triangular Totem Display
Hanging Square Totem Display